Tierra Hosting Announcements
Be the first to know - stay informed.
Welcome to Tierra Hosting's latest news page, where you can stay up-to-date with all the recent updates and changes to our hosting and domain services. Our team of experts is dedicated to providing you with the best possible experience, which is why we constantly strive to improve and update our offerings. Here you will find the latest news on new hosting plans, updated plan options, additions to the control panel, changes in domain availability and pricing, and much more. We're excited to share all of our latest updates with you and help you make the most of your hosting and domain services.
The 1-click Web Apps and Frameworks Installers have been updated with more new, popular installs
Posted: 2020-09-19 11:06:21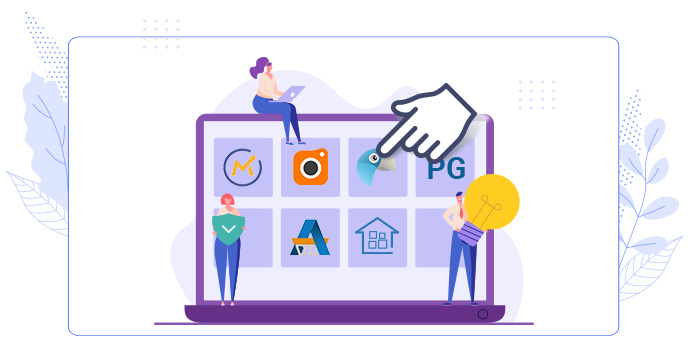 From today, users will be able to take advantage of some brand new, popular app/framework additions in various categories.
Some of the existing scripts with discontinued support from the respective dev community have been disabled from the installation list.
Learn more about the newly added apps and frameworks, as well as about the discontinued ones, from our post.
The 1-click Web Apps Installer and the Frameworks Installer – the Control Panel's gems
The one-click installation tools brought a great deal of convenience to the web-hosting market, allowing both beginners and more advanced users to get started online with a project of their choice with ease, in almost any personal or business category.
Thanks to the one-click concept embraced by
web hosting
providers, users are now able to skip over time-consuming tasks involved in a common app installation like system requirements, code support, permission setup, database creation, and 3rd party installations etc., and get their desired web application online with the click of a mouse.
Despite the availability of mainstream, ready-made 1-click installation tools, we created our own 1-click installation platform for web apps and frameworks.
It is fully in line with our custom-built
web hosting platform
and gives us the freedom to enhance and improve it anytime we need to; a great benefit to users.
Thanks to the 1-click Installer, thousands of users have been able to kickstart their blog, company profile, community board, family page or e-shop, etc. online in a matter of minutes.
And with the help of the Frameworks Installer, hundreds of web app developers have started their new projects, right from the comfort of their Control Panel.
What are the new additions to the 1-click Web Apps Installer?
Following a thorough review of the latest open-source web application trends, we have selected a handful of new, popular scripts to add to the 1-click Installer collection. Here they are in a quick overview:
Mautic

Mautic
is a community-driven marketing automation platform that helps companies gain valuable insights into audience behavior and thus helps them build more meaningful relationships with their customers.
It has a really simple to use, drag-and-drop interface, which enables marketers to create and manage higher performing, full-blown campaigns and content, achieving great results across multiple channels.
Mautic's founder, David Hurley, has defined Mautic very well: "Cutting edge marketing automation empowered by open source technology. This is the future; Mautic is leading the way."
Indeed, being supported by a large, open community, Mautic shares the vision of many progressive minds who want to give every person the power to understand, manage and grow their business or organization.
Maian Cart

Maian Cart
is an e-commerce software that focuses on simplicity and has a really easy-to-use interface.
The application offers a host of features that will help sellers provide a seamless and fully responsive shopping environment in their stores.
These include support for many payment gateways, shipping modules, zones and countries, wish lists, coupons and other customer incentives, etc.
Also, the platform has a guest checkout option for quick orders and an integrated account system for repeat buyers.
Also, the platform will allow you to get in direct contact with a developer so you can get swift support straight from the source.
Abante Cart

Abante Cart
is a powerful e-commerce and shopping cart application that can match any business's needs.
It is really flexible in that it seamlessly integrates with your existing website, blog or CMS (Content Management System) like Joomla, WordPress or Drupal.
Thanks to its products embed functionality, you can sell any products you want from your Abante Cart web store wherever you like online.
The Abante Cart storefront is fully responsive and SEO-optimized for an easy ranking start across search engines.
The admin area is really easy to work with and features voice control for a fully intuitive store-management experience.
The application is powered by the latest technologies such as HTML 5, Bootstrap and MVC etc., and has a flexible and expandable architecture which makes it pretty dev-friendly.
If you need help managing your store, you can always contact AbanteCart's online community.
phpCollab
phpCollab
is a project management and collaboration system that enables an easy co-working environment for various purposes.
The tool is most suitable for organizations, such as consulting firms, that want to draw a line between company-side and client-side information.
PhpCollab includes various useful online collaboration functionalities such as team/client sites, task assignment, document repository/workflow, discussions, calendar, notifications and many others.
It has a simple project management interface and also features a support request functionality for those who need help working with the system.
Live Helper Chat

Live Helper Chat
is an easy-to-integrate, live support chat module for your website.
It supports various messaging platforms such as Telegram, Twilio, Facebook messenger, Gtalk, Jabber, Skype, etc. so you can easily communicate with your audience via the channel you like.
The tool supports sound messages, images and files, and offers a high level of protection from unsolicited contacts thanks to the insulting messages and nude images detection extensions it comes with.
You can also integrate a Google search module directly in your Live Helper Chat via the respective extension.
Podcast Generator
Podcast Generator
, in short PG, is a popular podcast publishing solution which makes publishing audio and video podcasts a breeze.
Uploading an episode and submitting it to the mainstream podcast directories Apple Podcasts, Google Podcasts and Spotify is made really simple.
Through PG's intuitive admin interface, the user can upload new podcast episodes or edit existing ones, manage categories and customize podcast feed details such as title, description and cover image etc., with the click of a mouse.
PG automatically cleans an upload from the most common formatting errors, thus ensuring the podcast's compatibility with the widest range of clients.
With PG, podcast episodes are available via RSS as well, which helps podcasts gain an increased search engine visibility via permalinks and open graph meta tags.
Open Real Estate

Open Real Estate
is really simple to use and efficient way to present your real estate company over the web.
It provides the medium real estate agencies and agents need to quickly connect with real estate owners and prospective buyers/renters.
Open Real Estate features an easy-to-use Control Panel and offers a variety of functions and add-ons such as the ability to add listings of property for sale/rent in different languages and currencies, an online property booking functionality, and easy listing-wide search option, etc.
Based on the widely used Yii CMF framework, Open Real Estate guarantees top application performance and the product security.
Through the 'SEO' Module, you can get improved search engine rankings and can use an SEF URL.
If you need help or want to suggest a new feature, just post your comments in the tool's forum and your voice will be heard.
Revive Adserver

Revive Adserver
is an ad serving system that enables publishers, ad networks, and advertisers to run ads on websites, in apps, and in video players, and collect detailed statistics including CTR, conversions, and revenue, etc.
Via its easy-to-use interface, Revive Adserver allows you to manage campaigns for multiple advertisers and from ad networks, all at once.
Users have control over delivery rules for campaigns and ads, such as frequency capping, URL targeting, geo-targeting (setting up the zones where the ads should appear), etc.
Also, they can define as many advertisers and campaigns as they need, and upload banners for each campaign.
Piwigo

Piwigo
– a trusted photo gallery web application, has been serving organizations, teams and individuals from all around the world for 18 years already.
It helps you manage the tons of photos and other media you have in a fun and easy way.
No matter whether you have a medium-sized gallery or a huge image bank, Piwigo can handle it for you.
Piwigo is equally good for professional photographers as well, providing advanced permissions control for clients to download photos or albums in private.
The application comes with a variety of themes and extensions, and supports an easy image upload via the preferred tool or mobile application, a Batch Manager, an album tree with unlimited depth, image browsing by date, image geo-location, automatic metadata imports, etc.
Suite CRM

SuiteCRM
is a fully customisable, feature-rich Customer Relationship Management application. It is centered around the customer and designed to fit any business size in any industry.
With the help of various modules, users can customise it in accordance with their specific needs.
SuiteCRM enables users to create business process models and design flexible, automated actions.
Also, they can model sales pipelines, control pricing strategies, maintain contract renewals, and track lead progress.
For customer support, users can take advantage of self-service portals, which send instant customer request notifications to service teams, and also notify customers of resolved issues.
A community forum is available for anyone who needs assistance in managing their clients via SuiteCRM.
Form Tools
Form Tools
is a simple to use web form creator and data management script which you can install on your existing website.
It works with any existing web forms but can be used to create forms automatically as well.
Form Tools lets you tailor your installation to your own project requirements via optional modules.
Through the Data Visualization module, you can visualize your form submission data.
Also, you can export your data tо use in any other applications you need.
Form Tools is available in more than 50 languages.
Church CRM

ChurchCRM
is a data management system built especially for small churches and religious organizations.
It can be easily customised to fit the needs of a specific congregation and provides helpful insights into the community members involved.
Church CRM enables congregation leaders to best track and understand the relationships and all important events related to them.
Organising and managing а congregation with Church CRM is easy using its variety of useful features such as: an option to add members photos, a calendar for keeping track of events and member birthdays, a financial function for tracking tithes, pledges and gifts, Sunday School class reports with child and parent contacts, integration with MailChimp lists, etc.
LuxCal

LuxCal
is a web based event calendar aimed at helping individuals and small businesses organise their appointments and events in a very user-friendly way.
The tool is really simple to use, with an intuitive interface which makes the task of organising calendar events a breeze.
It is very flexible and can easily be tailored to the user's specific needs.
The supported views are: year, month, week, day, upcoming events and changes. Also, the tool offers flexible date/time formats, an import/export option for iCal files, as well as RSS feeds.
What are the new additions to the Frameworks Installer?
Following are the new frameworks that have been added to the Frameworks Installer:
YII

YII
is a high-performance component-based PHP framework.
Its name is pronounced "Yee" which means "simple and evolutionary" in Chinese.
Indeed, YII was created with the idea of simplifying the performance of mainstream framework solutions such as PRADO by speeding up the handling of complex pages and minimising the learning curve.
Some of the most noteworthy features include а Мodel-View-Controller (MVC) design pattern, generation of complex WSDL service specifications and management of Web service request handling, a layered caching scheme, which supports data caching, page caching, fragment caching and dynamic content, etc.
Laravel
Laravel
is a PHP framework designed to make developing web apps easier and faster through built-in features.
It supports a modular packaging system which enables developers to easily add functionalities without needing to write them from scratch.
The framework offers a complete authentication system and object-relational mapping.
Laravel comes with a command-line interface (CLI) with pre-built commands as well as with an automatic testing functionality.
Laravel has a short learning curve, especially for users who are already familiar with PHP. If assistance is needed, devs can reach out to its helpful community and rich collection of learning resources such as podcasts and tutorials.
Symfony
Symfony
is a PHP framework and a set of reusable PHP components aimed at speeding up the creation and maintenance of web applications.
It helps devs save time with typical operational tasks, such as creating persistent models or rendering content with templates.
Also, it gives them full customization control over the configuration: from the directory structure to the external libraries.
Disabled scripts in the 1-click Web Apps Installer and the Frameworks Installer
1-click installation tools are a great way to give web hosting users easy access to the usability and flexibility of open-source solutions.
Despite the enthusiasm and collaboration provided by dedicated communities in general, however, some open-source applications/ frameworks get abandoned by their authors who are no longer able to support them.
This leaves scripts open to vulnerabilities which might compromise the security of websites and projects using them.
For that reason, we've ceased support for the following scripts on our 1-click web apps installation platform:
b2evolution, Classfieds, Dolphin, fuzzylime (cms), Gallery3, HelpCenter Live, Imagin, Maian Events, MJguest, Movable Type, Nucleus, Open Ads, Open Realty, OS Commerce, phpCoin, phpFormGenerator, PHProjekt, PHPTickets, phpWebSite, Plogger, SugarCRM, WebCalendar, WebSiteBaker, Zazavi.
Following are the frameworks that we've disabled installation support for:
Akelos, Prado, PHPDevShell, Zoop.
***
The 1-click Web Apps and the Frameworks Installers are great free additions to the Web Hosting Control Panel that give our customers, both beginners and advanced users, the opportunity to kickstart their new projects from the comfort of their hosting dashboard.
By implementing a major update to the installation tools, we are aiming at keeping the tools in tune with the latest trends on the market and at maintaining the highest level of security for our customers.